One dollar in 2002 was worth $1.66 of today. This is what inflation can do. This is why inflation is often referred to as 'monetary erosion'. Therefore one dollar of 2002 or 2007 is not worth what we call one dollar today. This is why, in this article, we will use prices adjusted for inflation (as opposed to the prices recorded in the courthouse). If you do not make adjustments, you are comparing apples to oranges. This article's goal is to understand how the current market prices compare to the ones of the preceding twenty years, using the actual Median sales prices for each year as a base… but Median prices adjusted for inflation.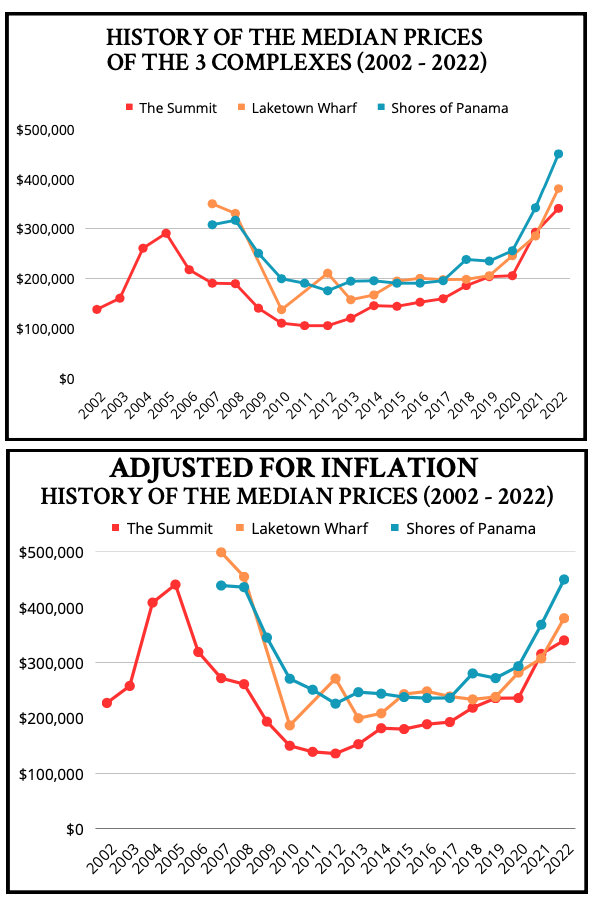 The Summit
Of the three condo complexes studied, The Summit was the only one that went through the bubble of 2005/2008 (the others were built in 2007). Our initial data starts in 2002, when the Median price of a condo was $226,875. Prices peaked in 2005 all the way up to $408,200. This is what we now refer to as the 'real estate bubble'. This represented an 80% increase from 2002 to the crest of 2005. The bubble did burst, but not immediately. It was more a stall than a brisk collapse; yet, the stall was substantial: it reached a low of $135,450 in 2012 – a 67% reduction in value. The market remained depressed until 2017. It has now recovered to a $339,900 Median price in 2022. It is clear that today's market values are a healthy 20% below those of 2005's peak.
Laketown Wharf
Laketown Wharf was finished and launched in 2007, therefore, well after the peak of the bubble. Due to pre-construction sales contracts at anterior market pricing, 2007 sales came in at severely inflated prices, resulting in a median sales price of $499,070. Prices sunk to a low of $186,320 in 2010 – or 51% below today's pricing. The market remained depressed until 2014. It has risen again since to a Median of $380,000 in 2022. Today's prices are a comfortable 24% below the launching prices of 2007.
Shores of Panama
This complex was launched in 2007 like Laketown Wharf. It registered an adjusted median price of $439,010. The low pricing in Shores of Panama did not come until 2012 at $225,621 – 51% below the launching prices, and 50% below today's pricing. The market waited until 2017 to come back. 2022's Median was $450,000. Today's prices have barely caught up with the launching prices, surpassing them by only 2.5%.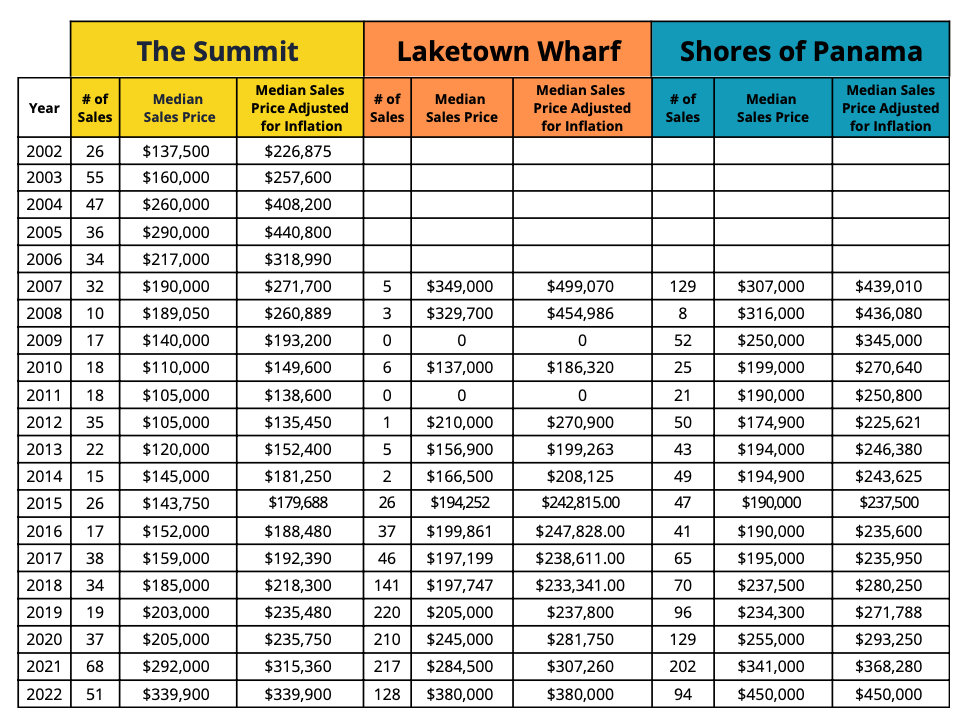 Our findings point towards a current pricing located between the extremes of 2005 (high) and 2012 (low): when inflation is taken into account, our current prices are sustainable and even average. Today's market is fueled by out-of-state buyers in large numbers, moving to Florida for the opportunities we offer – Florida just past the State of New York for employment! Highly leveraged speculators have become a faint memory. Infrastructure investments are made to support and foster the growth. No need to worry about the future. Your money is certainly safer in NW Florida real estate than in most other investment vehicles.