There has been speculation that we are nearing a housing bubble, liking to that of 2006. With news headlines such as "Home Prices at an All Time High," "The Real Estate Market is Slowing," and "Inflation Increasing," it is easy to see why many homeowners are asking: Are we about to see history repeat itself?
When looking at the 20-year history of home sale prices for Ox Bottom, Summerbrooke, and Meridian Hills, you will see that Median Home Prices climbed to a high of $417,500 in 2006, then dropped quickly and stabilized from 2009 through 2017. Prices have increased noticeably from 2018 until 2022, to reach $535,000. Having surpassed the 2006 bubble could be a cause for concern…
BUT in doing so, we are comparing apples to oranges. One dollar of 2002 was worth $1.66 in today's buying power…
This is why the picture is much different when you review the same home values when adjusted for inflation: We see that in 2006 the peak was actually $604,485 at today's money value, compared to $535,000 in 2022. After reviewing these Median-Home-Values-Adjusted-for- Inflation, you will see that we are not nearing that dreaded bubble, but rather Northeast Tallahassee is well within a stable growing real estate market. Additional arguments will confirm that we are priced reasonably, with a sustainable future.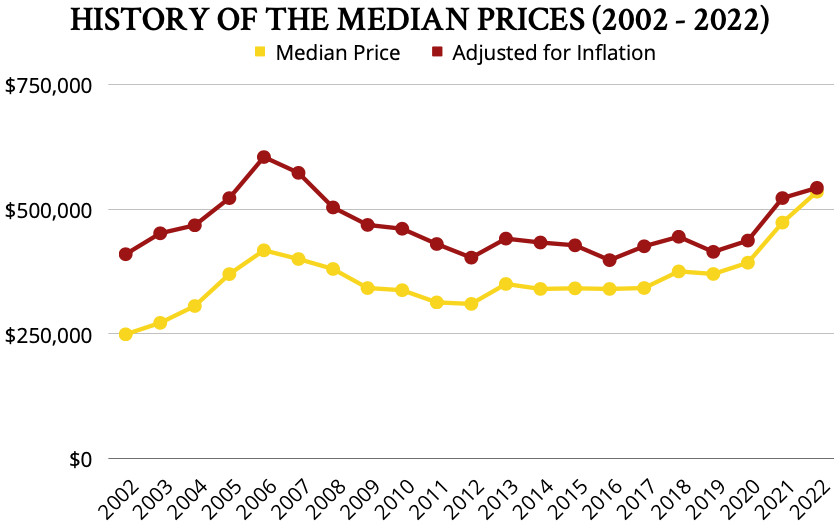 Let's go into the details of the data:
First, why median home prices, and not just average home prices? Webster defines Median as: a value in an ordered set of values below and above which are equal number of values or which is the arithmetic mean of the two middle values if there is no one middle number.
You can think of Median as "the middle of the road," which is much more significant than the average. The Average will oftentimes be distorted by taking into account outlaying numbers on both the high and low end of the range – such as a distressed sale or a conveyance between family members for a symbolic dollar.
Next, why adjusting for inflation? Everyone has been talking about the current price for a dozen eggs recently, they cost much less in 2002 and the same goes for home prices.
To be a little more exact, a $10 bill in 2002 was worth $16.65 in today's money. This is due to the value of the dollar bill decreasing over the last 20 years – justifying the nickname of 'monetary erosion' given to inflation.
Let's look at the graph for the Ox Bottom, Summerbrooke, and Meridian Hills subdivisions. You will see that, after adjusting the sale prices for inflation, the values climbed to a peak in 2006 of $604,485. This is 11.49% lower than the current Median Value of $535,000 in 2022.
Why are our home prices climbing? And at a reasonable rate? We have identified three main factors:
First, people are relocating to beautiful, sunny Florida at incredible rates, to evade other areas in the US that are being impacted by inflated home prices, areas such as San Francisco where the Median Home Value is reported to be $1.5 million.
Second, we also experience a Post Covid-19 migration that is partly being driven by the growing remote workforce.
Third, the lending institutions are making more stringent lending decisions today (than in 2005), causing a larger proportion of cash buyers.
Rest easy! We are not about to see history repeat itself, but rather Ox Bottom, Summerbrooke, and Meridian Hills are in a stable and growing real estate environment.