If you know about Mexico Beach and/or own property here, then you know that MB has been 'discovered'. This intensifying ongoing 'discovery' began about twenty years ago with the rise of everyday internet usage and extensive word of mouth. Mexico Beach's development began in 1946, and by 1966, it was incorporated as a city. In the early 1970s, Gulf-front lots were about $6,500, and you could buy a waterfront three-bedroom, two-bath air conditioned and furnished brick home for $21,000. In the early 1970s, renting a beachfront property was $70 to $125 per week! By the 1990s, buyers pined for the 1970s, and just before 9/11, people didn't realize then what was about to happen here between 2002 and 2006 (swiftly rising values), and then 2007 through 2012 (abruptly falling values). Generally, property values in Mexico Beach have doubled since 2018. In fact, Mexico Beach has recently crossed one billion dollars in total property value for the first time; it is now a 'Billion-Dollar Beach' on the Gulf.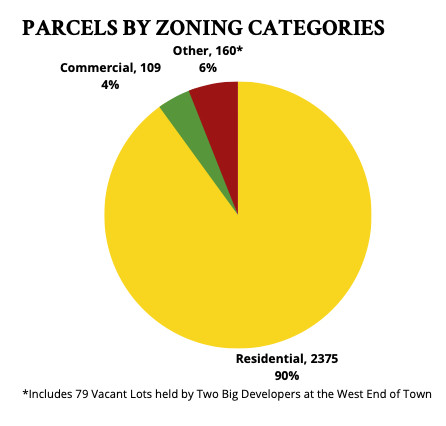 Mexico Beach has always been a special place, but there is a gem being discovered slowly: the availability of 'buildable lots'! This will not change the character of the essence of Mexico Beach's 1,498 acres along the Gulf. Most investors are amazed to learn about the extent of buildable lots because only a few of them are listed for sale in the Multiple Listing Service (MLS)… but there is much more to this story.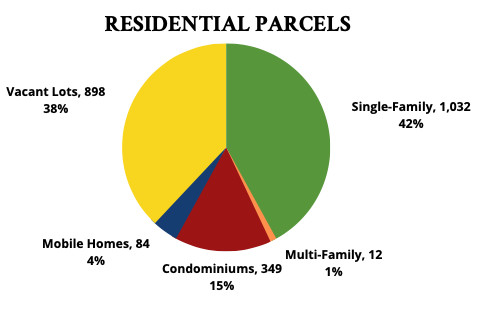 I. The Concept of Infill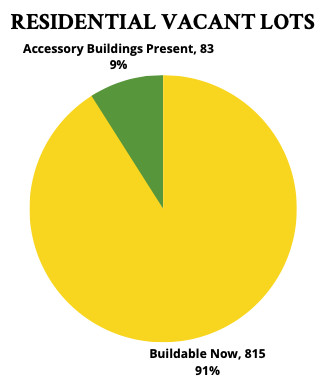 Usually, 'infill' is a term you will find in regular use by urban planners in big cities. The concept of building on and developing existing vacant properties within a city like Mexico Beach could be considered infill. You may be on a street that has a house, a vacant lot, and then another house. The owner of the lot in between, decides to build, and then you have infill. Mexico Beach has 98 streets and consists of 2,644 individual parcels in the Bay County Property Appraiser's records. A 'parcel' can be a single family home, a vacant lot, a condominium unit, a mobile home, or various types of commercial, or city- and state-owned property. Here, we focus on vacant land zoned for residential construction and not currently under development. Slowly, but surely, and quite noticeably since Hurricane Michael (October 10, 2018), Mexico Beach has been experiencing infill at an increasing rate.
II. Consider a "Portfolio of Lots"
When you walk, bicycle or drive around Mexico Beach, you see 1,100+ homes, 300+ condominium units, and a few hotels; I find it incredible that there are 815 residential vacant lots which could be built on today! This is the hidden gem of our city; our character will stay the same as we infill those lots, which will necessarily demand a few more restaurants and other local service providers. Today, only about 36 of these lots are listed in the MLS ($100k-$1.5m), representing 4% of the total. The "middle-twelve" of these lots are priced from $249k to $544k. During the past few years, some savvy investors have 'parked' capital in lots, and simply waited. Someone with one million dollars to invest can buy a home, and endeavor to see it worth $1.2m or $1.4m someday. A similar investor might buy an assortment of six lots for that same investment, and may not only see more rapid returns as infill accelerates, but their investment is in six pieces, and they can sell parcels gradually as selling opportunities present themselves at favorable returns. Do people buy and sell and trade lots in Mexico Beach frequently? Well, since Hurricane Michael, 442 (54%) of these 815 vacant lots have sold at least once (while remaining vacant)! If you bought all 36 listed lots today, your investment would be ~$15 million; if you did nothing with these properties, for three years, what do you think you could sell them for then?
III. Inflation and its Effect on Financial vs. Hard Assets
America has endured heightened inflation for more than two years now, and such is likely to continue as the Federal Reserve's new bank lending (liquidity) facility becomes more active in buttressing bank capital even as interest rates continue to rise. This means that inflation remains an important consideration when considering how you manage your investments. Only perpetually in demand hard assets (real estate, bullion, basic commodities, etc.) have the potential to outpace inflation. In times of rising and/or enduring inflation, financial assets, and especially cash (bank deposits, money market accounts, short-term securities, etc.) lose value in 'real' terms. During inflation, currency is worth less and less; over time, it takes more and more currency to buy the same amount of goods and services. Imagine trying to decide what to do with $200,000 across a two-year timeframe with 15% total inflation. If you do nothing, the $200k becomes 'worth' $170k; this $200k invested in a residential lot (with zero percent 'real' appreciation) then costs $230k. After two years, you still desire such a lot, and you still have the $200k, but it only has $170k in 'buying power'. As a non-investor, this is how real estate opportunity moves away from you during inflationary times.
IV. Engaging Me as Your REALTOR®
Most everyone knows that a REALTOR® can help you with the purchase of properties listed in the local and/or regional MLS inventory. Certainly, I can search for the right property for you to buy, and/or list a property which you own for sale. But what if you wish to buy a property you like or sell a property that you own without use of the MLS? There are two scenarios where you may engage me to:
Find a property that meets your criteria for purchase, exchange, lease or other acquisition of an ownership interest in real property. This can be accomplished by executing an "Exclusive Buyer Brokerage Agreement". This agreement spells out the nature of the property sought, my obligations to you, compensation, and any other special considerations.
Sell a property that you own via what is commonly known as a "hip-pocket listing". This is a quiet listing that is not entered to the MLS system, and is marketed and promoted inside my network to those seeking property such as yours. This is accomplished using a "Commission Agreement". This is a relatively simple one-page document that documents our compensation understanding in the event your property comes under contract to be sold.
Your Future as a Florida Real Estate Investor
Is Mexico Beach a good place to live, play, and invest? I definitely think so! The world has discovered Mexico Beach, and the city and residents are working hard to maintain its original small-town Florida charm. Consider investing in a buildable residential lot(s) near to our incredible beach, world-class fishing, and be part of the overall serenity of our older-style Gulf Coast community.