As shown in our Anchor's The Way of 2/2023, our market is stable, and we should not be concerned with a housing bubble. Those of us who purchased in Palmetto Trace prior to 2020 are now rewarded with sweet equity. Furthermore, the growth and success of the immediate area offer other tangible benefits. Many of us remember when Pier Park was dirt, when there were no Brunswick pool and no back entrance to our community.
Townhomes and single-family homes represent different markets. There are a total of 321 single-family homes and 160 townhomes in Palmetto Trace. With the number of sales of homes being approximately double the number of townhomes sold, the data correlates nicely year after year. Yet, different turns are sometimes visible in these two markets: 2019 was an unusual year, for we were in recovery from Hurricane Michael (10/10/2018). By 2021, and despite the pandemic, we registered more transactions for townhomes and less for homes; the number of homes and townhomes sold in 2021 was almost the same. This statistical fluke can be explained by the scarcity of homes for sale compounded by a massive demand from out-of-state buyers relocating to the Sunshine State.
Hurricane Michael and its massive destruction drove the sales of townhomes to fall from 19 in 2018 to just 6 recorded for 2019. Home sales stayed stronger, just losing five transactions from 2018 to 2019.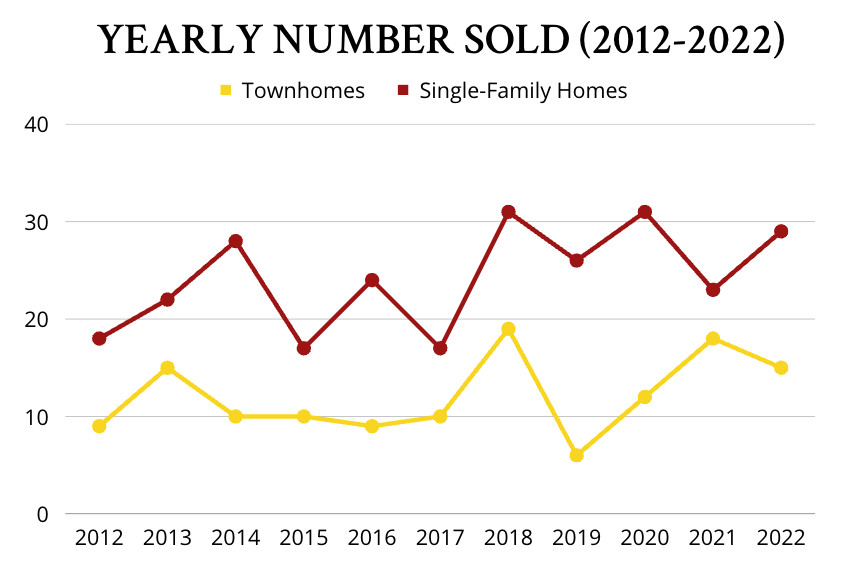 Townhomes had a solid rebound for transactions from 2019 to 2021. In 2019 and 2020, newcomers were scrambling for housing; this helped. Though transaction activity is different, the average home price is more aligned, as you can see in the Average Sales Price graph below.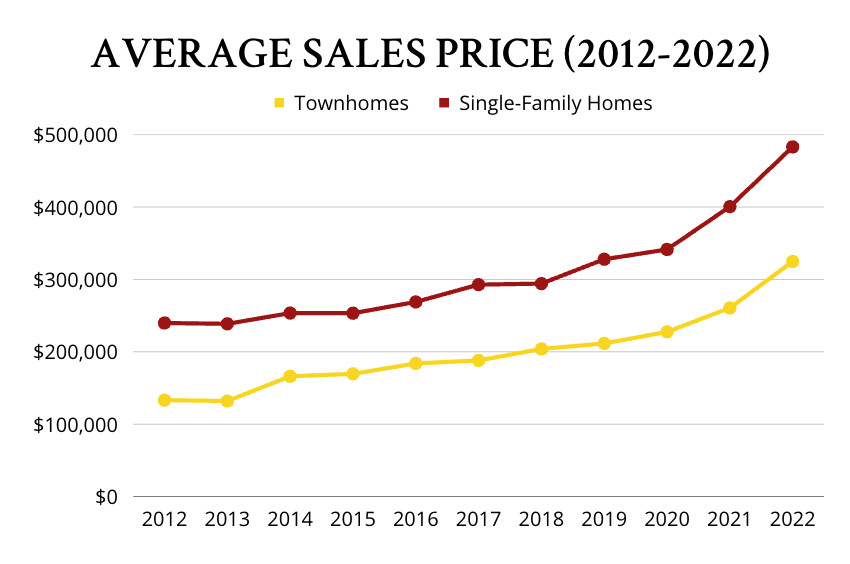 Single-family homes went from an average sales price of $240,000 in 2012 to $483,000 in 2022, representing an increase of 101% in their average sale prices. Townhomes outperformed homes and went from $133,000 to $324,000 during the same period, representing an increase of 144%.
Inflation, during the 2012 to 2022 period, had a cumulative rate of 29%. Therefore, homes in Palmetto Trace outperformed inflation by 72% (101 – 29), and townhomes by a whopping 115% (144 – 29)!!!
Extrapolating, we could dream of approaching the million-dollar mark in Palmetto Trace within a decade. Compounding this increase are the ever-more-luxurious upgrades in our neighborhood. The resale in March 2023 of a home on Bainbridge Street tells the story: it was purchased in 2019 for $370,000. The owners made some luxury improvements and sold it for $649,000! That is a massive 78% value increase in just 4 years. I expect that there will be more transactions following this pattern. It shows that investing in smart upgrades will help you get a better price. Choosing the right improvements that give your house more value than what you spent is an art – I will be delighted to assist you in making these choices. If you make these improvements now, ahead of any anticipated resales, you will harvest the bonus of enjoying your tasteful upgrades now while making more money later.
The cumulative sales shown in our last graph tell the story. Palmetto Trace is certainly on the map!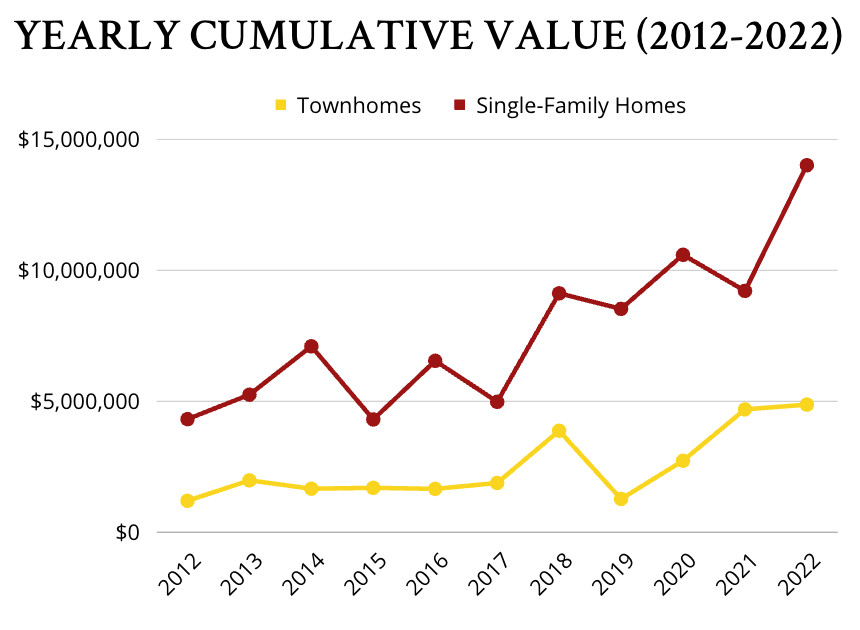 We truly have been blessed to have this community get stronger while some of the surrounding ones have gotten dilapidated and lost their cohesiveness – such as building RV barns and other oddities. We must be grateful to our management team and our board… and also to all of us who take pride in our homes.
With more attractions and businesses arriving, we can enjoy all Panama City Beach has to offer from a golf cart or simply a short walk. Palmetto Trace is so unique that it is truly a gem investment.