The residential real estate remains strong going into 2023! According to the National Association of Realtors article posted on December 21, 2022, "While home sales were falling, home prices mostly remained resilient. After climbing 10% this year, home prices likely won't change next year". Some key factors that NAR has recommended for homeowners to consider going into year 2023:
2023 Real Estate Forecast: Market to Regain Normalcy
But even though mortgage rates and home prices are expected to moderate, home sales may still sag under persistent inventory shortages, housing economists predict.
Home Sellers Can't Be Greedy Anymore
As escalating mortgage rates and home prices shrink the pool of buyers, help your sellers understand why they'll likely need to readjust their expectations.
Bay & Gulf Counties Median Home Sale Prices are up 18.5%
This is great news for Bay and Gulf County homeowners! As you can view in the Florida Association of Realtors yearly market chart below, traditional 3-bedroom+/2-bedroom single-family-home prices continue to rise year over year! Your home's net worth grew 18.5% in 2022, 17.2% in 2021, and 10.9% in 2020! More than a speculative overheating of the market, these increases represent adjustments after the depressed times following the bubble of 2005. The market is now back to normal! Home ownership remains a great investment option, especially in inflationary times!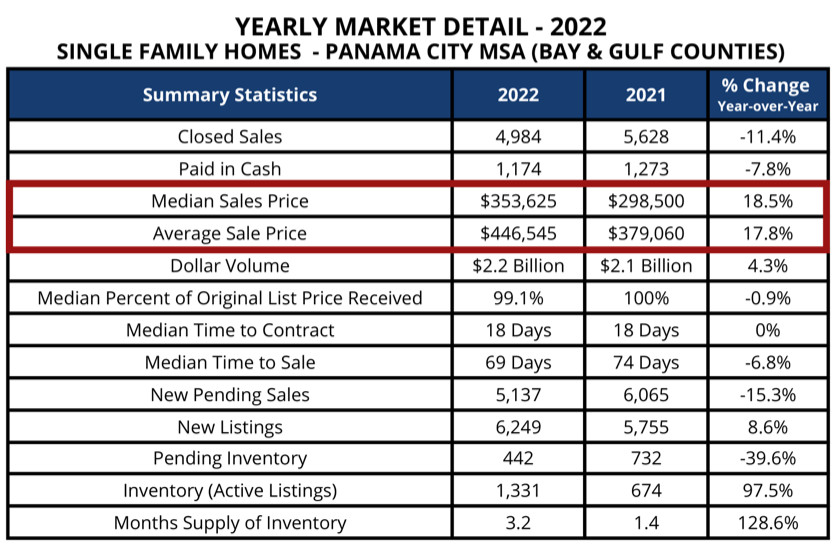 Why choose the Panhandle's historic ANCHOR REALTY FLORIDA to sell your home?
Our firm has qualified buyers and investors actively looking for properties in Panhandle Florida! They come from our large repeat client pool; they are also the result of our strong online advertising. Case in point: According to the latest 2021-22 U.S. Census Bureau on net domestic population migration chart below, Florida remains the "top state" in the U.S. for family relocation and investment! We have become the nation's premier pro-family and pro-business destination!
Founded in 1962 – Our firm has catered to property owners' needs for over 60 years!
Top-notch Marketing – Our firm will market your home to all 5 Panhandle Florida Multiple Listing Services (MLS), from Pensacola to Tallahassee, including digital online marketing and several state-of-the-art interactive websites.
Anchor Express Model – Inquire about Anchor-Express, our firm's incentive to sell your home within 30 days at the highest market price!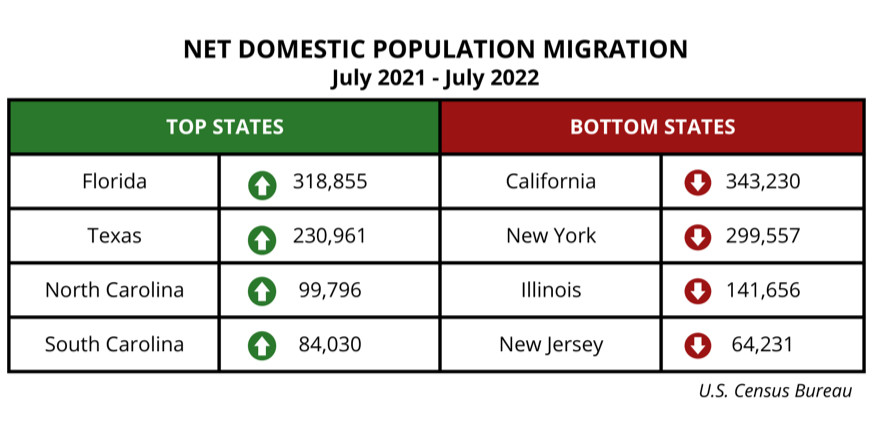 John is a licensed real estate professional with Anchor Realty Florida. He is an expert in the residential housing and beachfront condo markets. John proudly served our country in the U.S. Navy for 20+ years; his first duty station was Naval Support Activity (NSA) in Panama City. As a certified Military Relocation Program (MRP) and Florida Military Specialist (FMS), he's ready to serve you with honor and integrity in buying or selling your dream home.