My name is Zachary Dexter. I am a licensed REALTOR® that would love to be your go-to-guy on any real estate transaction. As a Realtor, it is my job to stay up to date with real estate news, trends and the market.
When you think of Panama City Beach, what first comes to mind? For me, it's beachfront condos. With a total inventory approaching 50000, PCB is condo town. Of late, contradictory and sometimes extreme statements concerning the health of the real estate market have abounded. The purpose of this article is to make sense out of this seemingly nonsense.
Two-bedroom condos are growing in popularity on the Emerald Coast. According to the REALTOR's Multiple Listing Service, 558 two-bedroom beachfront condos were sold in Bay County in 2021 compared to only 305 condos sold five years prior in 2016. That's nearly a 83% increase in sales! Let us investigate the origins and strength of this powerful market.
People looking to invest or retire 'on the beach' – and, of late, large investment firms – have set their eyes on PCB condos. The graph provided below underscores several changes over the past 19 years. Please note that all prices shown have been adjusted for inflation; in other words, we are comparing apples to apples. The values are expressed in 2022 dollars.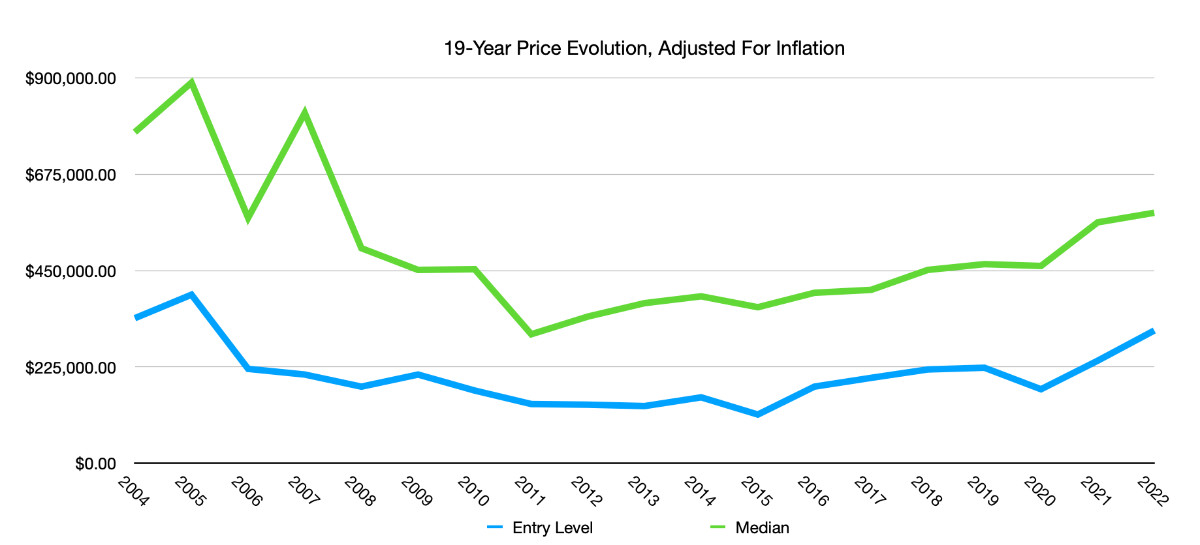 Over these two decades, the median price started with a peak of $889,000 in 2005. This was the top of the real estate bubble that was induced by speculation compounded by loose lending practices such as the LIBOR rates and 100% loans.
Then, the music stopped. For several years, the market stalled in the midst of wholesale foreclosures and a banking crisis. It took five years for the market to hit the bottom in 2011 with a median price of $301,296. Prices remained low and the market stagnant for another five years, until 2015/2016. The cheapest two-bedroom beachfront condo sold was in 2015 at only $113,752. By then, the market was purged and established on stronger basis. In the process, some buyers got the deal of the century, yielding unprecedented CAP rates on their investments.
Since the 2011 – 2015 low and until 2021, prices have re-adjusted to a more justifiable level; by justifiable, I mean prices supported by a market CAP rate. What some uninformed observers have called a brisk price increase between 2015 and 2021 is nothing less than the long-needed adjustment following the underpricing of the 2011/2015 period.
In the aftermath of Covid, and compounded since February of 2022 by the war between Ukraine and Russia, global uncertainty is looming, giving a sense of precarity to a market otherwise strong and healthy. The Economist published on 8/17/2022 an article whereby, "An analysis of 900 metro areas in America finds that prices have fallen in just six since the beginning of the year (2022)". When 99+% of the markets are healthy, we should be satisfied!
In conclusion, at $889,000, the peak pricing in 2005 was 52% higher than today's prices. This substantial spread demonstrates Panama City Beach real estate values have plenty of room to grow… and still remain within a safe margin below speculative overpricing.