Mexico Beach Market Update
Market Activity
As of December 15, 2017, there are 60 properties currently for sale with a median list price of $382,450 and overall volume totaling $21.2 million. We expect to see fluctuations in inventory and closed sales in the upcoming months.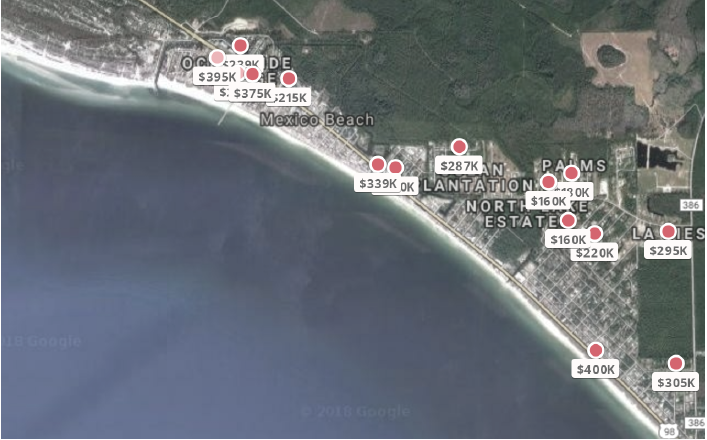 2018 Recap
Sales volume was down 10.3% in 2018 with 183 units sold through December 15, 2018 as compared to 204 units sold in 2017. Median sales price, however, was up 8.7% this year at $256,750. Gulf front properties followed the same trend with sales unit volume down 17.6% but median sales price up 20.7% at $437,500.

Looking Ahead
Hurricane Michael disrupted our community and left a path of destruction that none of us could have ever imagined. Thankfully. our community is resilient and already starting to rebuild and come back stronger than ever. The hurricane has also disrupted the real estate market and left many owners wondering what will happen to property values and development in the coming years. Because of the sheer magnitude and nature of this 100 year plus storm, we must look to reputable research and studies to form our predictions and future forecasts. Studies conducted by the Federal Reserve Bank of Dallas have found that property values typically increase for a number of years after a hurricane strikes.


"A typical hurricane strike raises house prices for a number of years, with a maximum effect of between 3-4% three years after occurrence"
- The Federal Reserve Bank of Dallas
While the long term impact on property values is generally positive, the short term effects reported include less frequent and lower priced sales immediately following the storm. Colorado State University found the immediate negative effects to be short lived though, generally only lasting a month or two, As many of us have experienced first hand, rental demand also increases significantly in hurricane affected areas as well as neighboring towns. As we look ahead and enter the new year, we expect both property values and inventory to increase. While the first couple of sales will lead to some fluctuation in property value and the median sales price, the market should stabilize as more sales take place and a post-storm baseline is created. If you are curious about your property's value or would like to discuss this outlook further, please feel free to contact us.
Featured Listing: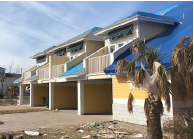 3 Bedrooms - 3 Bath - 1,827 SqFt - $299,000
One of only four 3/3's in highly sought after Oceanside Village is now offered for sale as-is. Professional remediation has been completed making unit ready for rehab. Contact us for more information.